Odessa airport
Odessa airport is one of the largest in the Ukraine, an international airport and counts on numerous daily flights to Europe, Russia and Asia.
Its surface area covers 560 hectares. Reconstructed a few years ago, it is presented like a big building with a big hall where travellers wait to check-in.
Inside you will find ticket offices of various international flight companies such as Austrian Airline, Turkish Airline, Lufthansa, LOT and national flights.
A bar where you can have snacks, a newsstand with telephone recharge cards and tobacconists, a flower shop.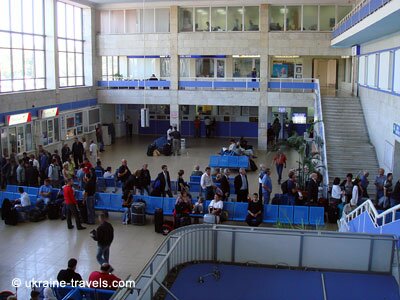 The waiting room before check-in at Odessa Airport.
After check-in, you go to customs entering the area for international destinations. Here the atmosphere is very European with lovely furnishings and services and in certain cases luxurious.
Now some images of the airport and aircraft parking areas.
Summed up, a good airport even if the runway is not tarmac but still paved in reinforced cement which give landing a different experience, jerky.