Legal notices and contacts
About us.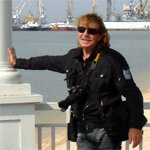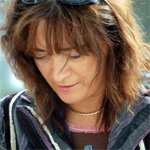 Alibrando Morgantini, born in a beautiful Tuscan town called Lucca and Lyudmila Mykayilova, born in Mariupol by the Azov Sea, South Ukraine, a happily married couple, have created together this website to get round a series of small and big uncertainties brought about by a lack of knowledge of a beautiful country like the Ukraine.
We do not wish to teach you how to travel on this website but we will tell you about our experiences and sensations, transferring errors into useful advice.
We have written, without being writers, what we will have wanted to read when we had the need to know, so we have created this small reportage of maternal taste:
...through the Ukraine by hand.
Use of the site and content information.
The information supplied is as it is and in no circumstances the supplier will be responsible for any given type, included, without limitations, resulting damages from loss of goods, profits and income, biological value, from the cost of recovery, replacement, or other similar costs or any special, incident or consequential damage, also only hypothetically connection to the use of the current information.
The current information is written with maximum ability as possible in reason of knowledge and technology at disposition and from personal experience; its accuracy and reliability is not however guaranteed in any way or form on the part of the supplier or anyone else. The data is freely supplied and consultable for anyone. Tis website was founded to spread information of the uses and customs of Eastern countries with public travel interests.
This website is not an editorial head therefore does not violate foreseen liabilities of article 5 of the law n.47 of 1948 (Italy) in how the information is given with occasional periodicity. Besides it intends to offer information and services either for occasional users or for those that use the Internet as a source of information for proper professional activity and enjoyment. The present site conforms to the normative editorial regulations (Italy - law n. 62 of 7 March 2001), does not restrain from publication of entitled character periodicity, but an up-to-date product according to the material received and or available for insertion.
Copyright:
All the material, articles and photos are the exclusive property of www.ukraine-travels.com. All utilization is subordinated therefore from notices to means of the contact module have to be cited at source with precise links in a comprehensive way and completed as in the example.
Example:
Data source: Ukraine Travels
The code to copy and paste into your page is as in the example:
Data source: <a href="/" title="Ukraine"> Ukraine travels</a>
For information and advice please complete the
Contact Module
(form).